Merrimack will release its 3rd album on next September 15th through Moribund Cult (USA) and Osmose Productions (Europe), both on CD and limited gatefold double LP.
Track listing :
1. The Golden Door
2. Omniabsence
3. Kirjath-Ra
4. La Sainteté du Mal
5. Cold Earth Mourning
6. Grey Rigorism
7. When the Stars Align
8. Désaveu
9. In the Halls of White Death
10. By Thy Grace
2 tracks now available on the band's myspace page
http://www.myspace.com/merrimackofficial
Total length : 61 minutes
Recorded, mixed and mastered in Necromorbus Studio by Tore Stjerna.
Booklet artwork made by Seldon Hunt.
"Merrimack is pleased to announce the arrival of long time comrade Daethorn to the bass duties, while Terrorizt is back to his vocals position."
Line-up for this release is :
Perversifier / Terrorizt / EsX / Daethorn / Necrolith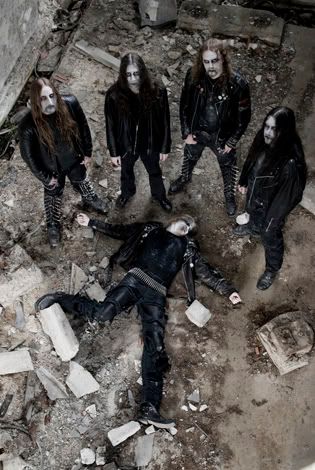 The band is now open for any touring or gig opportunity.
Many more news should be expected in a very near future.
http://merrimack.satanslegions.com/
http://www.myspace.com/merrimackofficial
http://www.moribundcult.com/
http://www.osmoseproductions.com/
http://seldonhunt.com/